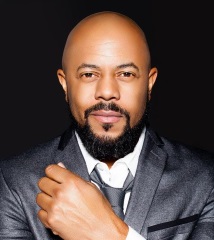 The essence of Rockmond Dunbar is as intriguing as his name and as captivating as his on-screen presence. Rockmond, whom many consider one of the industry's most talented actors, has mesmerized viewers on the small screen starring as the tough, mysterious inmate "C-Note," on the hit Fox series, "Prison Break" (2006 People's Choice Award for Best New Drama Series). Named one of "Television's 50 Sexiest Stars of All Time" by TV Guide, Rockmond is also known for his leading role as "Kenny Chadway," the hard-working family man and entrepreneur on the long-running, critically acclaimed Showtime drama series, "Soul Food." A true renaissance man, he has hypnotized his audience not only theatrically, but in all realms of art. From his provocative mixed-media exhibit, "ARTHERAPY," to his powerfully unforgettable guest appearance in Dylan McDermott's directing debut of "The Practice," Rockmond is undoubtedly one of Hollywood's hottest up-and-coming artists.
His journey began with a series regular role in Steven Spielberg's "Earth 2." Once Rockmond arrived on the Hollywood scene, it was a very short time before he landed recurring roles on many TV series. To his credit, Rockmond now has had many guest starring and recurring on such shows as "The Mentalist,' "The Game," "Felicity," "The Pretender," "Good News," "Two Guys and a Girl," "G. vs. E," "North Shore," "Girlfriends," "Shark," "CSI: Miami," and "Grey's Anatomy," just to name a few. This talented, theatrically trained actor experienced yet another career boost when he secured leading roles in various independent films in the films, "Jada", "Highland Park," "Punks," "Kiss Kiss Bang Bang" with Robert Downer Jr., and the Tyler Perry film "The Family That Preys" along side Kathy Bates and Alfre Woodard.
Rockmond can be seen on the FX series "Terriers" as well as "Chicago Code" on Fox , "Private Practice" on ABC, "The Defenders" on CBS, and is currently staring in the FX hit series "Sons of Anarchy".